Turn Your Plain-Jane Post-War, Mid-Century Ranch into a Craftsman Bungalow
As I was browsing Houzz* today as I often do, I stumbled onto this incredible design conversion. What started as a plain little post-war ranch, was artfully transformed into an attractive Craftsman style bungalow.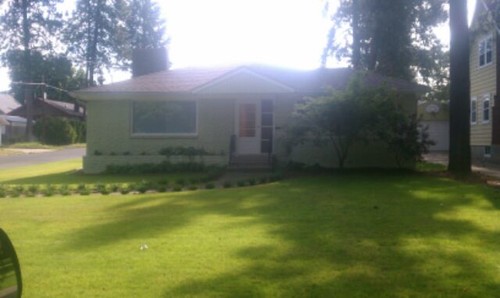 Awesome, huh? There are several reasons why I love this so much:
This is the perfect renovation for Kansas City. Both of these styles can be found all over Kansas City so it is relevant to this location. I am all for renovating, but I think it is important for cities and homes to retain a sense of place and style. Craftsman bungalows are common in the older parts of Kansas City and feel very original to this area.
Finally, a way to spruce up a boring ranch facade! There are cool ranches, and there are just plain, boring old post-war ranches. This is a simple, relatively inexpensive way to turn a boring little house into an architecturally interesting home.
I think millennials will be attracted to these types of ideas because they want mid-century homes and neighborhoods. I feel dorky using the term "millennials," but there is a new crop of buyers coming up, and they want their homes to be close to the city center, in a walkable location, not too big or too ornate, easy to maintain, interesting, and possess a sense of community. Instead of wanting huge new homes in the suburbs, they will want homes in the inner-ring developments such as Westwood or Prairie Village where unadorned, post-war ranches are common. Ideas like this Craftsman renovation will really help them visualize the possibilities and get more excited about the housing stock.

*Do you ever look at Houzz for home design inspiration? I love it; it is sort of like Pinterest, but more industry specific. It is used by designers, remodelers, and photographers, and it helps them to connect with the public in a visual way. I recommend it!